After the firing of 14 year head coach and mustache enthusiast Andy Reid, most Philadelphia Eagles fan's had assumed that the reign of terror was over. The Eagles would no longer throw 50 times a game; they would no longer waste the talents of LeSean McCoy. The stubbornness and egotism that had haunted the team for years would dissipate. With that, disgruntled Quarterback Michael Vick could follow the lead of Jason Babin and his not-so-secret admirer, defensive line coach Jim Washburn, and make sure the door didn't hit him on the way out.
Under the guidance of new head coach Charles "Chip" Kelly the Eagles would become innovative, exciting,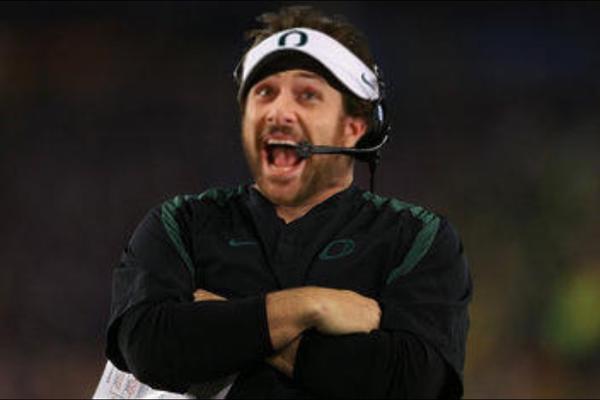 and above all like-able. The Eagles would turn over a new leaf with Chip Kelly and either Nick Foles or a rookie to be named later under center. So, when the news broke on Monday that the Eagles had re-signed Vick, it seemed that the franchise was simply running in circles. However, when this issue is examined deeper it is obvious that there as many pros as cons.
Why it makes sense:
Frankly, what does either side have to lose? It's a one year deal based on incentives such as playing 90% of the snaps and winning the super bowl. Vick will achieve neither of these. If Vick plays horribly, each party in the agreement says adieu and goes there separate ways. Moreover, the Eagles would get a high draft pick in a draft where Teddy Bridgewater and Tahj Boyd would both be available. These two QBs are tailor-made for the Chip Kelly offense and would leave the franchise in great hands for the next decade.
On the other hand, if Vick somehow plays like 2006 or 2010 Micheal Vick, the idea of him and Chip Kelly together would give Defensive Coordinators nightmares (im looking at you Monte Kiffin). With Maclin, McCoy, Bryce Brown, Brent Celek and Desean Jackson their is more than enough talent on the offensive side of the ball. If Vick could stay healthy (I understand that's about as likely as Hellen Keller passing a vision test) the Eagles offense could keep them in a lot of games. The Eagles are going to be a run first team next year, and having Michael Vick occupy a defensive-end on the weak side of the play could lead to much larger running lanes for the Eagles two-headed running attack. Overall, it can be argued that Vick is a better fit for this team than Nick Foles who clearly did not do enough this year to deserve the starting job outright, going 1-6 as a starter. There is no harm in having an open competition for the most important spot on the team, and sending the message as a first-year head coach that job's will not be given out on name value, rather on performance and hard-work. Lastly, in a year with a weak draft class and no tempting free agents, Vick was the best dollar-for-dollar choice on the market. As Chip Kelly himself said,
"

you look at the landscape at QB, who else is available?"
Why it doesn't make sense:
Eagles fans are angrier than usual (that's saying something) and started to boycott games at the conclusion of the season. Bringing back Mike Vick is the cold towel placed on the peaking optimism Chip Kelly and new Vice President of Player Personnel Tom Gamble are bringing to the organization. Owner Jeffrey Lurie should be doing everything possible to appease the fan-base not aggravate them. On the football end of the spectrum, Michael Vick is not the perfect piece to Chip Kelly's puzzle everyone is making him out to be.
First, he is not close the dominant runner he once was. This year he recorded career-lows in rushing yards per attempt. Eagle fans should not get the illusion that they have Colin Kaepernick or RGIII under center. Also, with each extra designed run Vick attempts, the Eagles are putting the ball in the hands of one of the worst fumblers in the NFL. He fumbled 11 times this year while only starting 9 games. Additionally, if Vick is keeping the ball on the option just 5 times a game, he is going to be beat up or on the IR by week 8.
Even if Vick stays healthy, there are some looming problems. In a coaching clinic he gave while heading Oregon, Kelly said,
"In our attitude, every sack is the quarterback's fault
, it's not a sack if the quarterback throws the ball away. Nobody ever lost a game on an incomplete pass. Throw the ball away, and give us another opportunity to make a first down." Vick is known to take unnecessary hits in the pocket, be unwilling to throw the ball away, never live for another down, and he had the second longest average release time in the NFL last year. Chip Kelly's system (whether he adopts the one from Oregon or not) will rely on quick decision making which is Nick Foles's strong suit, not Vick's.
Mike Vick's mind is the antithesis of what Chip wants, and his body is 7 years removed for what it needs to be to take the pounding that is going to ensue. This is a poor combination.
Final Word:
The sacks, fumbles, and interceptions are going to drive Coach Kelly into a tizzy. I wouldn't be shocked to see Vick benched by mid-season and new signing Dennis Dixon, a rookie like Ryan Nassib or E.J. Manuel, or incumbent Nick Foles as first in the depth chart. That being said, the potential for Vick and Kelly is limitless if Vick embraces the system, just gets the ball in the hands of his playmakers, and occupies some defenders on the read-option. Michael Vick has never had a coach who challenges the norms and thinks outside the box like Chip Kelly. Finally, Mike Vick's natural gifts won't be limited, there won't be a Vick in a box.